Obi-Wan Finale - The Loop
Play Sound

Dragonaut -The Resonance- (ドラゴノーツ -ザ・レゾナンス- Doragonōtsu -Za Rezonansu-?) is an anime series directed by Manabu Ono and co-produced by Gonzo and Nihon Ad Systems (NAS). The series ran on the Japanese network TV Tokyo between October 3, 2007 and March 26, 2008. Funimation Entertainment has acquired the license to distribute the anime series in North America later in 2009.
Plot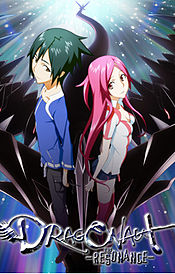 On November 2, 2007, a manga adaptation published by Shueisha started serialization in the Japanese shōnen manga magazine Jump Square. It ended serialization in April 2008, publishing a total of six chapters. A bound volume containing all the chapters was released on May 2, 2008. Twenty years prior to the story's beginning, an asteroid headed for Earth destroys Pluto. Due to Pluto's destruction, the asteroid, which is dubbed Thanatos, becomes temporarily stagnant in Pluto's orbit. Now, in order to avoid Earth's impending destruction, the International Solarsystem Development Agency (ISDA) works on the "D-Project", and secretly creates weapons called "Dragons" after finding a dragon egg under the ocean. However, they soon find out that the asteroid is not their only threat, as powerful, destructive dragons from Thanatos appear on Earth.
After witnessing what looks like a murder by a strange creature, Jin Kamishina, a lonely 18-year-old boy who lost his family in a shuttle accident two years ago, gets involved with the ISDA and their efforts to battle the dragons from Thanatos. Helping him is Toa, a mysterious girl who saves him from falling to his death after the creature attacks him. As they delve deeper into the mysteries of the dragons, they encounter new friends and enemies, and also develop a closer relationship.